Next Post
026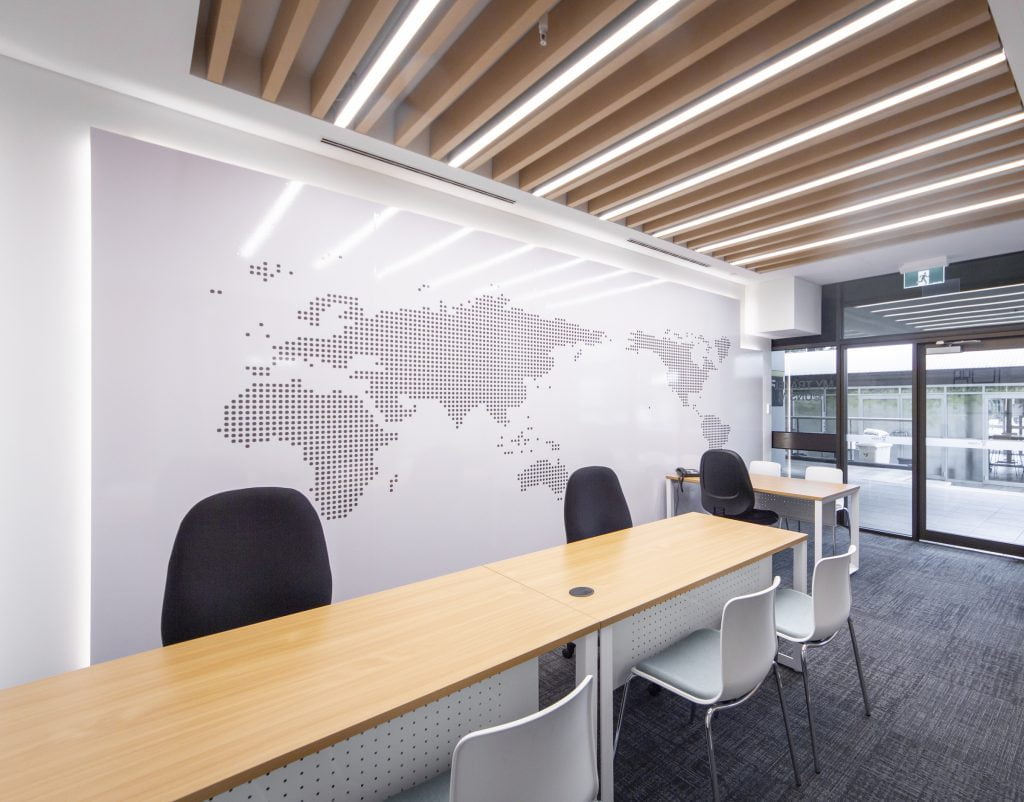 October 2018 —
UNSW Travel Office Now Complete
Construction is now complete on the Travel Office, BKA's latest project on the UNSW Kensington Campus. Home to UNSW's travel program, the space comprises a flexible office area and meeting room and facilitates student preparation for university-related trips and postgraduate fieldwork research. In the main office space, a large world map decal doubles as a whiteboard, allowing students to be placed on the board while they are away, while in the meeting room a large screen and AV capabilities allow interaction with researchers located overseas.
The University's brief was for a functional space that complemented the broader Kensington campus – which is currently undergoing significant renewal – and elevated the student experience. Project Leader Alyce Thompson responded to both brief elements, delivering a contemporary facility that fits in effortlessly with its surroundings and provides a high degree of functionality within a compact footprint. White walls and an open plan configuration enable the workspace to feel spacious in spite of its size and are illuminated by LED strip lighting set into a slatted timber ceiling.
In keeping with its function, design elements within the Travel Office respond creatively to the themes of travel and global connections. A restrained material palette of timber, metal, and glass is complemented by wall decals that include two novel variations on the world map: a stylised dot matrix version in the main office space and a text-based graphic in the meeting room in which the names of major cities are arranged to form countries and continents. In the former space an arrangement of wall-mounted frames displays images taken by researchers abroad to inspire other students, while in the latter a circular suspended LED luminaire provides a playful halo of bright light.
View more BKA university projects here.