Next Post
020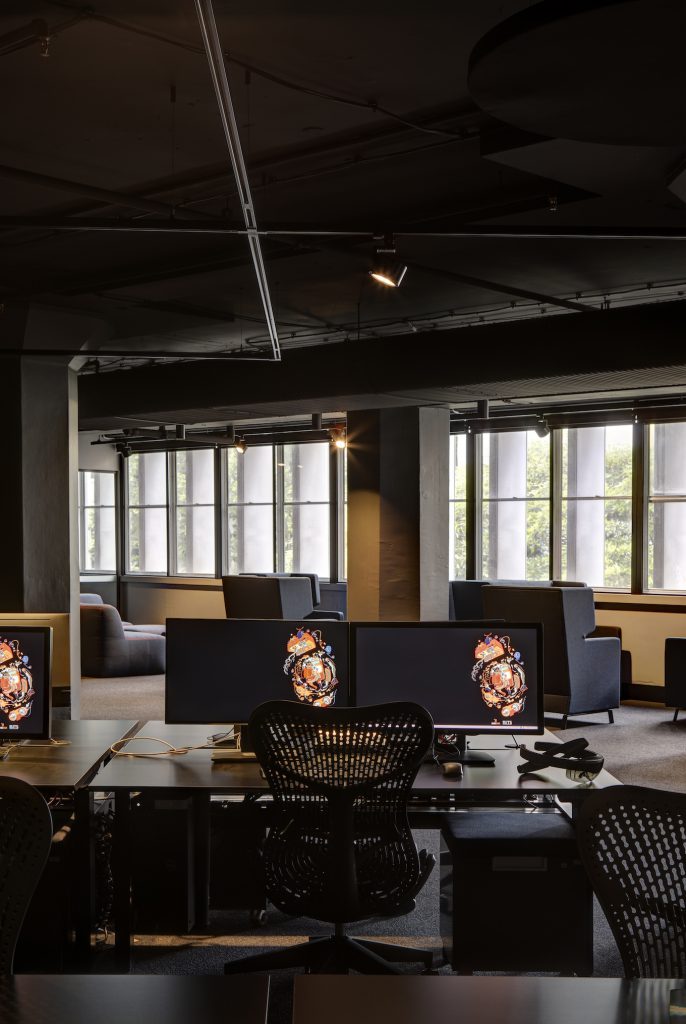 August 2016 —
Animation Studio and Teaching Space for Animal Logic and UTS Undergraduates Now Complete
BKA has completed the fitout of two floors of Building 15 on the Ultimo campus of UTS to house, transforming the heritage-listed spaces into a new home for Animal Logic Academy. Bringing together Animal Logic – the animation powerhouse behind films including Happy Feet and Avengers: Age of Ultron) – and the UTS Bachelor of Creative Intelligence and Innovation (BCii) degree stream, the space was designed to provide a studio experience on par with world-class industry production standards.
A key feature of the project is its predominantly all-black interior, which incorporates black carpet, furniture, joinery, and finishes. This monochromatic colour palette was a major brief requirement and enables the best possible graphics viewing experience.
"We answered the complex technologically brief by creating an all-black interior, but we were conscious that it could easily feel claustrophobic," says John Baker, BKA Founding Director, "By introducing shades of grey and muted tones of green, we were able to create enough visual interest to stop it becoming monolithic or oppressive."
At the heart of the studio is a large space filled with diagonally-oriented workspaces and topped with black exposed ceilings that give the illusion of greater height. Structural columns with chamfered tops were retained in accordance with the space's heritage value and painted charcoal grey.
Lighting design and control was vital throughout the space, which features block-out blinds and dimmable lighting. Encompassing the central studio space are two screening rooms with cinema screens, large projectors and speakers, and two professional editing suites.
The studio is the first of its kind in Australia and reflects the University's commitment to industry-oriented education.
"By offering a one-year, intensive and studio-based degree we are able to sere the scalability and refresh needs of industry, where practitioners need to uptake new skills and explore the emerging demands for computer graphics in a real-world setting," says Dr Shilo T McClean, Head of UTS Animal Logic Academy.
BKA is a keen supporter of future-oriented teaching methods and unconventional education space design. View more of our education projects here.